Percussionist Mariko NISHIOKA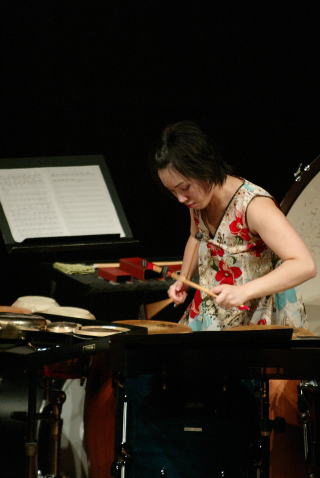 Mariko Nishioka had born at Kyoto, Japan. She graduated at Doshisha Women's College.
She was 1st prize of Japanese junior percussion competition. Excellent results are pursud in the Kansai percussion percussion society new figure concert in 2002, and recommends it for the Tokyo headquarters percussion new figure concert. She was invited to Pittsburgh,USA music festival. the special prize is given by KOBE international competition in 2003.
She entered the Freiburg music university. The performance activity begins in Germany and Europe.The invitation is performed in the music festival of a Mongolian international,a music festival of an international Ukraine Odessa in 2006.
The scholarship musician of Japan Agency for Cultural Affairs(Japan Goverment)study abroad system trainee in 2006-2007. Freiburg music university graduation in 2007.As a result, the diplom (musician qualification) is given.
The 56th Munich ARD international music competition finalist and got special prize.
After the ARD, She entered a school at the Basel,Switerland music academy graduate course.
in June,2010 graduated.
The scholarship is obtained and it participates in the music course of an international Darmstadt,Germany in 2008. the Stipendiaten prize is given. As a result, it is invited to this course in 2010.
The 25th Japan international percussion competition winning a prize in 2008.
got an Artistic prize from Heiwado Foundation in 2010.

as a Soloist, she worked with Pierluigi Billone and Gorges Aperghis.
as a Cembermusic player, worked with ensemble recherche, Polaris Trio.
she plays also severaltimes improvisation.music.